BENVIG Company Acquisition
The shareholders of company Montaze Prerov a.s. together with other investors aquired company BENVIG HEAT TRANSFER s.r.o. with its subsidiary BENVIG HEAT TRANSFER Nederland (100% of shares).
Company BENVIG HEAT TRANSFER located in Benesov nad Ploucnici, Czech Republic employs 120 employees and its revenue is around 500M CZK. Company's core business is mainly engineering and fabrication of equipment for oil and gas, chemical and power industry with key products of air coolers, heat exchangers, condensers and industrial air heaters. Company is mainly exports to central Europe and western regions.
Both companies (Montaze Prerov and BENVIG) finds in this connection another opportunities and possibilities in fabrication and BENVIG can include in its scope of delivery also installation of its products for BENVIG's customers.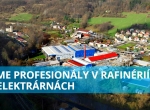 News
Contacts
Montáže Přerov a. s.
9. května 3303/119
750 02 Přerov

+420 581 267 111
+420 606 958 091
+420 581 267 318
montaze[at]montaze.cz