Expansion of our machine fleet by GROVE GMK 6400 and GROVE GMK 4100S mobile cranes
In November 2016 Montáže Přerov company added two new mobile cranes to the existing machine fleet. Both of them belong among the top technology in their own field. Thanks to this new mechanization, Montáže Přerov can offer wider range of works carried out by mobile cranes, now ranging from a lifting capacity of 20 up to 400 tons.
The first new crane is Grove GMK 6400 type with a maximum lifting capacity of 400 tons, a maximum uplift height of 144 m and a maximum radius of 66 m.
The second new crane is Grove GMK 4100S. This one can telescope with a load of 50 t weight. Moreover, the telescope has a tilting head for works in confined spaces, for example in industrial buildings.
News
Contacts
Montáže Přerov a. s.
9. května 3303/119
750 02 Přerov

+420 581 267 111
+420 606 958 091
+420 581 267 318
montaze@montaze.cz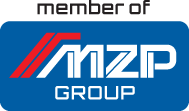 MZP GROUP
Thámova 137/16
186 00 Praha 8 - Karlín

+420 225 379 020
+420 725 935 903