Assembly
Fields of Activity
The main fields of our activities are in particular the following:
assembly and disassembly of technological complexes or parts of them
installation of rotary equipment and their repairs
grinding of work surfaces of rotary parts (pulleys and supporting rings)
We provide all services including engineering activity, technical service, diagnostics and consultancy.
Our best quality having been appreciated by our customers for many a time is a prompt reaction in a case of urgent repairs and emergencies.
News
Technology Matters of Interest
We have developed a unique system for large rotary objects handling without the use of cranes which is advantageous particularly in existing buildings.
We perform reconditioning of pulleys and supporting rings of rotary equipment just during the operation with the aid of grinding.
Contacts
Montáže Přerov a. s.
9. května 3303/119
750 02 Přerov

Assembly:
Pavel Hrdina
+420 581 267 361
+420 724 209 738
hrdina@montaze.cz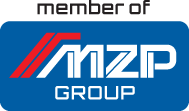 MZP GROUP
Thámova 137/16
186 00 Praha 8 - Karlín

+420 225 379 020
+420 725 935 903