About us
Business branches
Among the major branches of our activity there are above all assembly and disassembly of investment complexes and technological equipment, engineering manufacture and hire of mobile cranes or heavy transport equipment.
Regarding the scope of rendered services and products, our company is divided according to basic types of activities:
For more information on the particular scope of services within the above mentioned fields of activity, please see the relevant page.
Please feel free to contact us if you have any question about the rendered services, we will be happy to answer any questions you may have, we will recommend the most advisable solution, procure sub-deliveries from proven partners… simply anything what is essential and important for your project.
News
Contacts
Montáže Přerov a. s.
9. května 3303/119
750 02 Přerov

+420 581 267 111
+420 606 958 091
+420 581 267 318
montaze@montaze.cz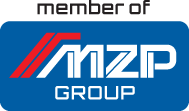 MZP GROUP
Thámova 137/16
186 00 Praha 8 - Karlín

+420 225 379 020
+420 725 935 903